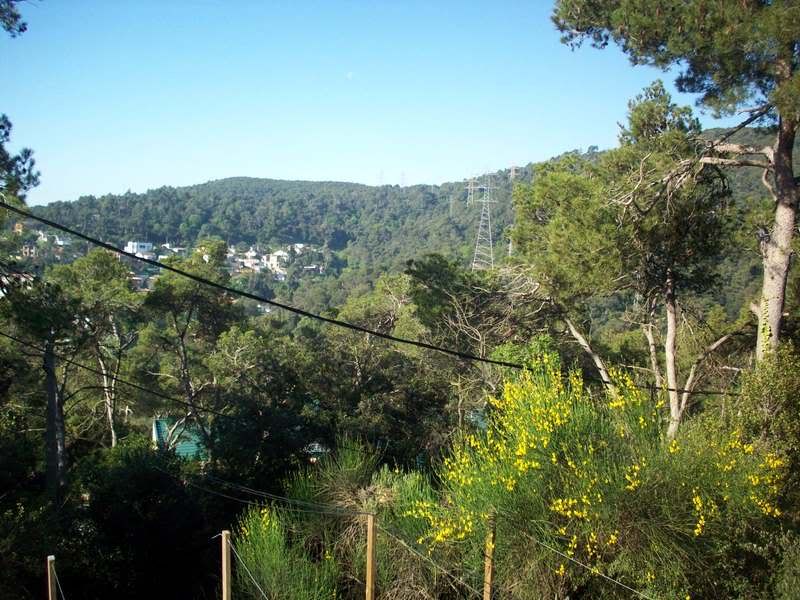 (Ok, ignore the power lines)
(
More pictures [probably way more than necessary] plus commentary after the jump...
Collapse
)
Since I hadn't actually seen any part of the hostel in daylight, I was pleasantly surprised when I woke up to find this beautiful scene from the window:
Current Location:

at home

Current Mood:

safe

Current Music:

Bad Sneakers - Steely Dan
finish
blogging my trip. I guess the reason I stopped was because I started actually doing stuff, and didn't have as much extra time as I did for the first few weeks.
So, in case some of you have been held in terrible suspense since my last entry (a year and 4 months is a very long time to be holding your breath), I did end up going to Barcelona. I got a Ryan Air flight the next day, and arrived only 2 hours later than I would have if I had caught the ferry. Unfortunately, that set me back another 1 or 2 hundred euro, since I had already paid for a
round-trip
ticket for the ferry.
Other than that, though, the mini-trip went nicely.
This is us at the Arc de Triomf, where I met up with Matt.
(
Click here for picture and more...
Collapse
)
But I think I'm going to start to actually
Current Mood:

accomplished

Current Music:

KPLU/NPR


So now I get to wait here at the internet cafe down the street for Matt to call or email me back so I can figure out what I'm doing. I would make good use of this time to talk about last weekend and post pictures...but I'm a bit exhausted at the moment and don't think I could really come up with anything coherent. It would probably turn out amusing...but only for its incoherency.

Oh, and I'm going to London next week. You can bet I'm going to do some better planning for that trip.
So, I just missed my ferry to Barcelona. Entirely my own fault. I realized once I got to the train station that I'd forgotten my passport at home. It was late enough that I couldn't have gotten home and to Civitavecchia (where the ferry port is) in time to catch my ferry. And there's no going to Spain without a passport.
Current Mood:

distressed


The sad thing is, since the ferry ride is overnight both ways, I'll only be spending one night in Spain. But it will be awesome. Hooray for hostels! And mixing up Italian with Spanish!

(I really hope I'll be able to find some good chicken enchiladas there...but, seeing as that's a popular item in Mexican cuisine...I think I'll just have to wait till June for that. Probably the same with rice and beans. Sigh.)
I'm officially booked for a ferry trip to Barcelona the weekend after next with my friend Matt, who will be meeting me from London.
Current Mood:

excited
Current Mood:

chipper


(Laurel, we can trade that and Choke when I get back.)
We found 2 English bookstores today, and I totally caved and got the British version of Harry Potter and the Deathly Hallows. I'm really excited about it, though. I also got Haunted, which is a Chuck Palahniuk book (he also wrote Fight Club).
Current Mood:

giddy


It apparently got here Saturday afternoon, but I didn't know about it until Monday when I went to class. Ridiculous, I know. I totally went and bought clothes and things Friday and Saturday, thinking that I might not have my stuff for another week at least, and it was all for nothing. British Airways better reimburse me, because clothes (like everything else) are expensive here.

In addition to accidentally finding a department store a block away from our apartment, we found three (3!!!) supermercati (one of which is 2 doors down from our apartment entrance--on the side of the street we never venture down), which was good, because we were running out of toilet paper and didn't know where to get more.

So things are definitely getting settled here. I'll try to update more about our class visits/adventures soon, but I'm about to go on a long walk up the Tiber river to the Popolo and back down to the Trevi fountain (apparently there's an amazing gelateria near there with lots of natural flavors and a honey one!).

Love to all!
Well, my luggage finally came.
Current Mood:

bouncy
So, like I said, the wait at Seatac kind of killed my excited mood.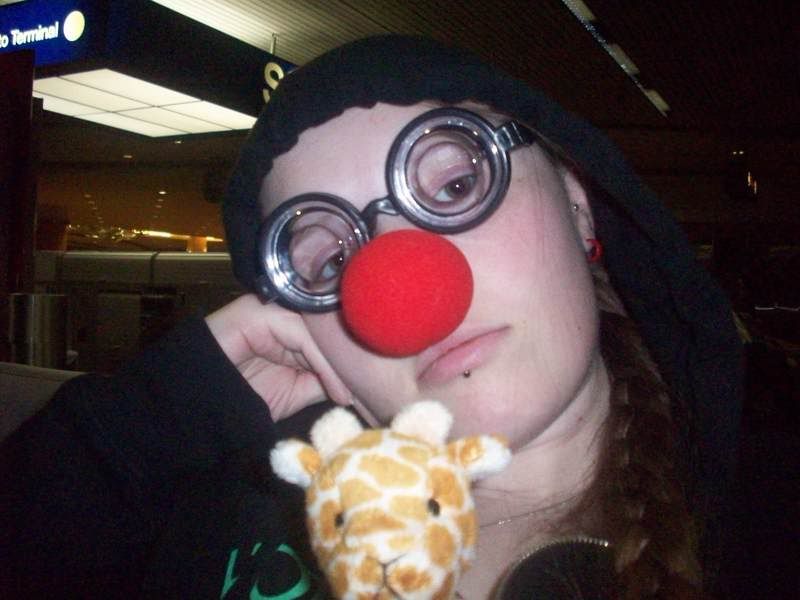 But, it was probably a good thing that I got all the codeine and caffeine out of me before we took off. Giraffey (he has yet to be named) was pretty bored, though.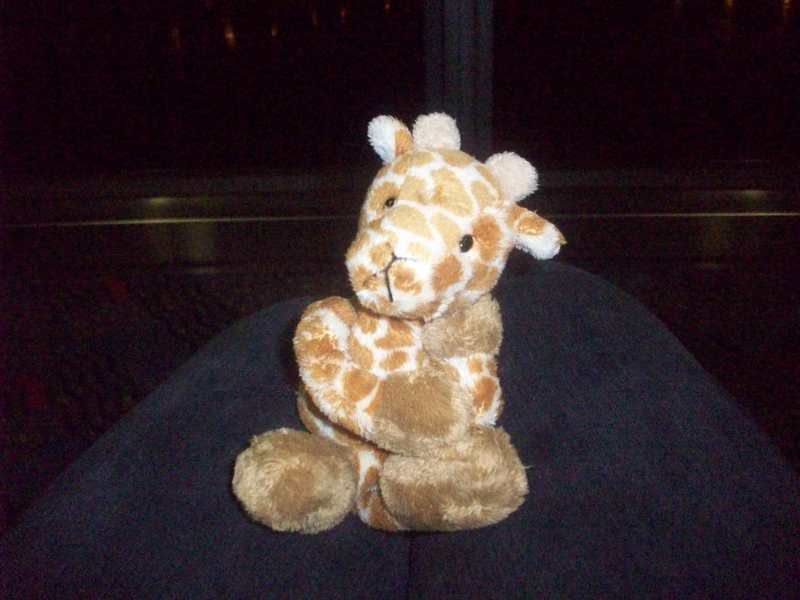 At Heathrow, after going through security, I found paradise.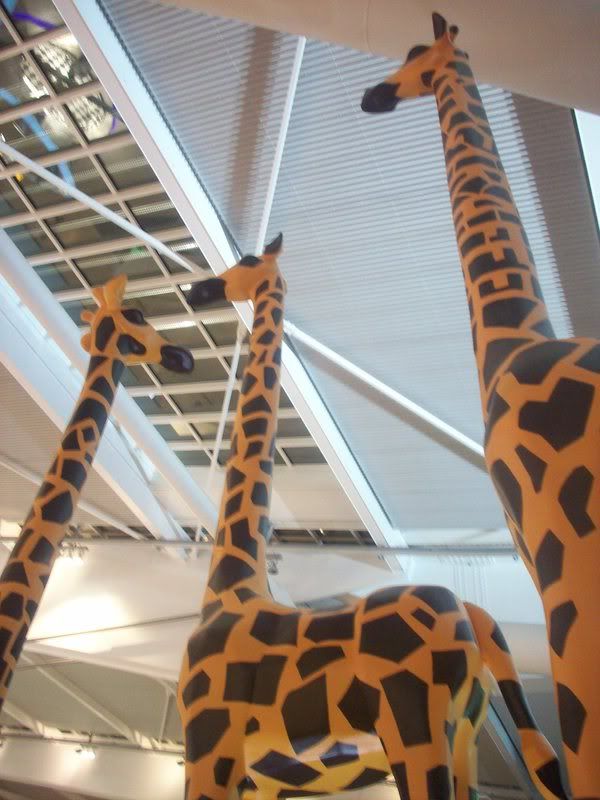 Giraffey was quite overwhelmed.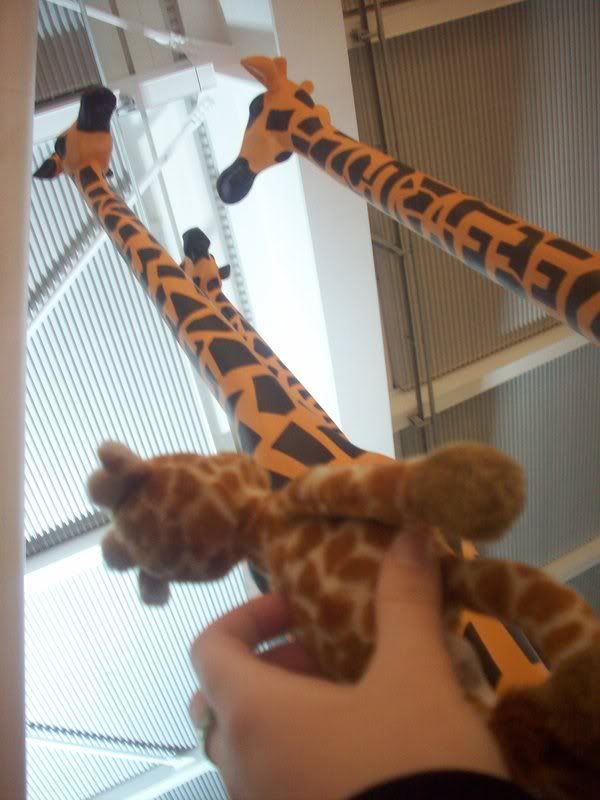 I, of course, was speechless.
And a bit ecstatic.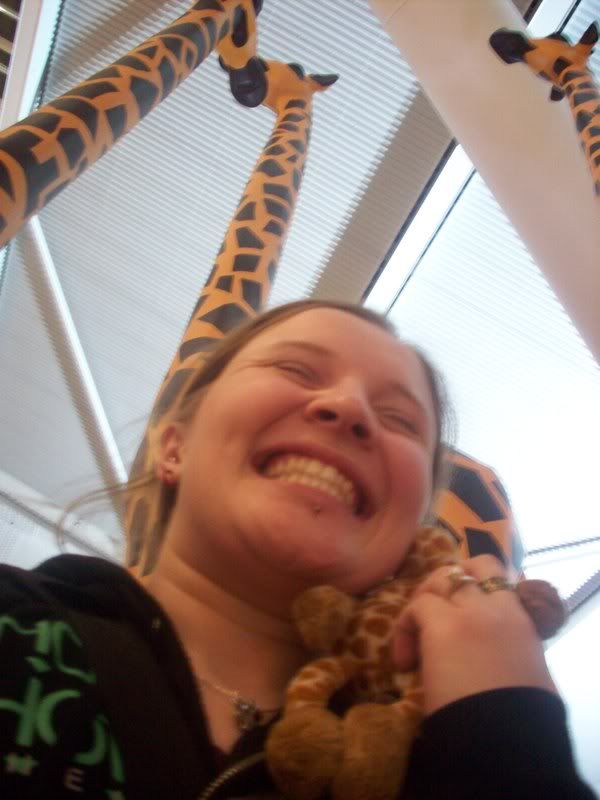 Then, we looked downstairs, and found something almost equally incredible.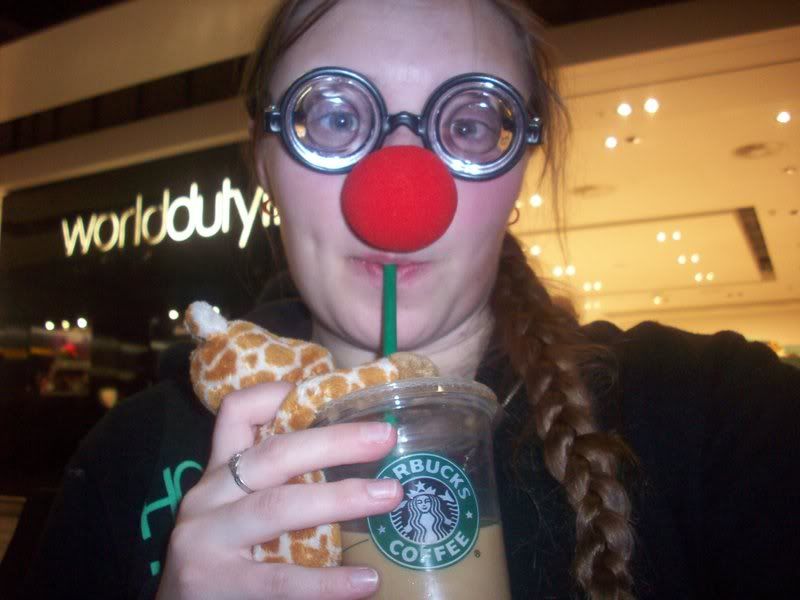 I really needed my vanilla soy latte that morning. It was probably the last one I'll have until June, since soy milk and flavored syrups are pretty non-existent in coffee bars here.
And, finally, my new (temporary) home.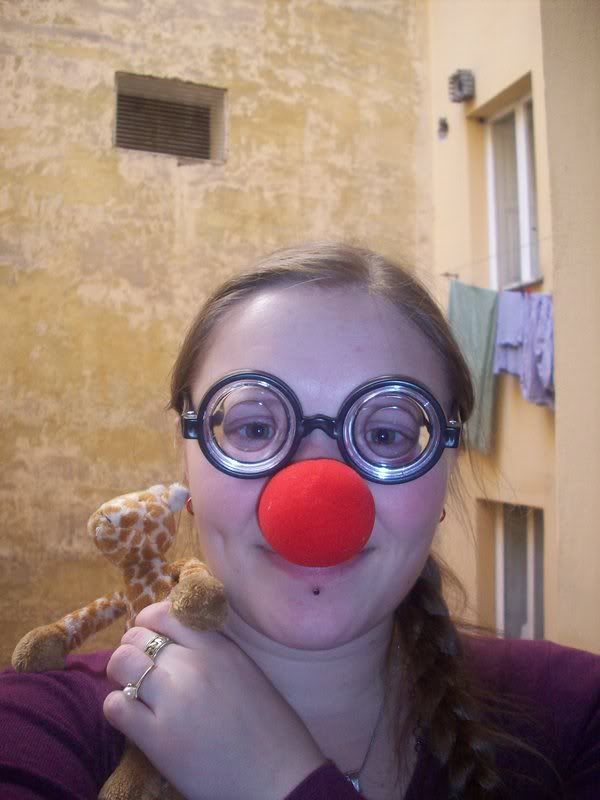 Stay tuned for next time, the tour del appartamento.
Sorry for the delay, but today was the first day I got my pictures to actually upload. And I've spent so much time in the computer lab here, that I'm going to have to put the rest of the pics up some other time. I've got more stuff to do today.
Current Mood:

congested (still)


The taxi ride was nice. Our driver didn't speak much English, but we figured it out enough with the little Italian I could muster. The last two weeks of not speaking the language have really hindered me in that department. We arrived in the Campo de' Fiori, and turned off onto via Biscione, where the UW Rome Center is located. We checked in, got our keys, and I parted ways with Tabitha, because she had to go the opposite way to her apartment.

So, now, my apartment. It's about a 15 min walk to and from the Rome Center (which was nice, because although my bag and laptop were getting heavy and it was hot outside, I was still able to just walk to my apartment that afternoon). There's a tram that runs on the main road across the river, but it's almost faster just to walk the distance because there's so much vehicle traffic. My apartment is located in the Trastevere (literally, "across the river") neighborhood of Rome, which is a more authentic and low-tourist-traffic area. It's in this beautiful old stucco building (as those are pretty much the only buildings that exist here), and about 3 floors up. In between our building and a few others, there's a small courtyard where people can park their motorcycles and mopeds. Our windows open up into it. Everyone (including us) has got at least one clothes line outside their window for drying clothes. We haven't used ours yet, but I'm excited. We've also got a washer or washer/dryer or something in our bathroom...that we'll figure out how to use eventually.

It's such a cute little place! A lot bigger than I expected, too. When you walk in, there's a hallway you walk down. On the left is the bathroom, then the kitchen, then a closet, and finally you enter the living room, where our beds are. There are two huge windows in the living/sleeping area, and another big one in the kitchen. There's a small one in the bathroom, but I can't figure out how to open it. Pictures will be coming soon. I would put them up right now, but the internet here has been acting up and it's a miracle I even got to this page without it timing out on me.

The cold (or whatever) I had before I left still hasn't left. In fact, I think it may be morphing into something else (with a different kind of cough and maybe a little less congestion...just barely). Also, when we got off the plane in Rome, I noticed that my left eye had been really irritated and watery. When I got into my apartment, I finally took a look in the mirror, and it was all red and puffy. So my roomate (Kaitlin, for future reference) and I went to a farmacia down the street and there was a really nice lady working there who gave me some eyedrops to help. My eye's a lot better today than it was Monday. Still red, though.

Last night, Kaitlin and I went to our first real Italian restaurant in Trastevere. It was amazing. I had fetuccine di pesto (of course), and let me tell you, it totally got my full approval (which is really saying something). The gelato and coffee is also delicious (of course).

Well, I'm going to have to go now, so y'all will have to deal until my next entry. But you best not complain, because I still don't have my luggage. :P
I believe I left off with the flight from London. There was really nice weather the whole way to Rome. We flew over the Alps (at least, I'm pretty sure we did), which was really cool (I was in a window seat again, much to my pleasure). The landing there was much better for my sinuses than the landing in London. It was really hot once we got inside the airport. We went to baggage claim, and waited a bit to see if (by some really random chance) our luggage had actually made it. It was at least 10 minutes (probably more) after the time on the screen that any luggage came on the belt at all. And even then, it was the same 5 bags going around for about 20 min. I'm not even kidding. And then luggage from another flight started coming. So Tabitha and I went to sort it all out at the customer service desk. Apparently not much luggage at all came over from London. So we filed lost luggage forms and left to catch a taxi. At least we didn't have to lug our suitcases around Rome.
Current Mood:

hungry


So, as my first post in Roma, I should let you all know that I'm feeling a little funny from the granita di caffe' that I just had about an hour ago (and I had a lattemacchiato a few hours earlier) on a mostly empty stomach. The only food I've eaten today was a piece of bread with some Nutella (which I'm becoming addicted to). But being high on caffeine is better than posting this whilst drinking wine, so any incoherency in this post won't be too bad.

Now, for my fun London story:

The problems started in Seatac (and still aren't completely resovled yet). We boarded our plane, and they'd assigned me a different seat (in the level right ahead of coach, which was a bit less crowded, but still 2 sections away from first class) by the window (yay!) near the front of the section. I was hopped up on cough medicine, nasal decongestant and a double-shot latte, sucking on cough drops and just excited to take off so I could actually get some sleep. But after about 10 minutes of waiting, the main lights went out, and the backups came on. This went on for a minute or so, then the pilot came on the loudspeaker to tell us that the ground power supply wasn't working. So we waited at least another half hour or so, with the main lights going on and off. The pilot came back on to say that they'd tried 2 other power things but none of them worked, and our battery power was about to run out, so they had to take us off the plane before we were completely immersed in darkness. We were waiting at the terminal for an hour or two before they'd finally borrowed whatever it was that was malfunctioning from United Airlines and run all the tests. Then we loaded back on, and by the time we took off, we were almost 3 hours behind. The flight itself wasn't terrible. It was dark most of the way (since we finally took off at about half past midnight), and I was congested and a bit uncomfortable most of the time. The takeoff wasn't bad for my nose/sinuses/ears, but the landing was worse.

I'd met a girl in the seat in front of me who was also going on a UW study abroad program to Rome, but for Classics, not English. She had 2 flights canceled before she ended up on mine. Our connection in London was supposed to have a couple hours of a layover before our 6:15pm flight. But we didn't land until about 6:10, and our flight to Rome was to depart from another terminal. So, of course, we missed that. And lucky for us, the Heathrow airport had just opened Terminal 5 (the one we were to catch our next flight at), which isn't connected to the other terminals, so there was already lots of confusion with our situation. So, Tabitha (the other UW student) and I took a shuttle to Terminal 5, and went to talk to the British Airways customer service about our missed connection. The next flight out was at 7:05 the next morning (yeah), so they gave us hotel vouchers for the night. We asked them if our luggage would be transfered to our other flight, and they said that it should, in theory. Very comforting.

There are two hotels connected to Heathrow, and we were staying at the Hilton. Pretty nice, I guess, but we didn't get to see any of London during our stay. Which was just as well, since we were pretty exhausted anyway. So we got some dinner at the hotel (also paid for by BA) and went to bed. Since we couldn't claim our luggage yet, and I'm an idiot for not packing a change of clothes in my carry-on, I had nothing but the outfit I was wearing and my toothbrush (thanks to Mom for telling me to keep it with me). And I had my computer, but was not about to pay 38 USD for 24 hours of wireless at the hotel. It was bad enough that the 8 oz bottle of Coke I had with dinner (which, by the way, was not included in the paid-for buffet) was 3 pounds (6 bucks for a little bottle of Coke!!).

Anyway, I fell asleep pretty easily that night and woke up at 4am so Tabitha and I could catch our taxi (the shuttles don't start till 5:30, and we had to check in at 5) to Terminal 5. Unfortunately, the Hilton breakfast buffet doesn't start till 5, although we had vouchers for that, as well. At the airport, we checked in with the automatic check-in machines, and after it printed my boarding pass, we went to show them our checked luggage receipts. Then I realized that I didn't have my passport. I had a bit of a panic attack, talked to one of the volunteers there, who went to ask customer service if any had been turned in, and Tabitha came and asked if I'd made sure it wasn't still in one of the automatic check-in machines (I'd scanned the page in while checking in). I swore I'd already looked and it was gone, but then it turned out to be sitting in the machine, at the opposite end of the line that I'd already checked. Huge relief for me, but then I felt like even more of an idiot (which I seem to be getting better at :/).

After security (which has longer lines in London, but is less complicated than in the US), I saw the Giraffe Cafe and proceeded to freak out and ask the employees if it would be alright for me to take pictures with the giraffe sculptures they had (they weren't open until 6). That was definitely the highlight of my experience at Heathrow. On my way home, I am most definitely treating myself to a Giraffe Cafe tshirt (they also have hats and pins and baby bibs!). For breakfast, we went downstairs to....are you ready for it....Starbucks. Yep, they've got a Starbucks in the London airport. It was great. Twice as expensive, but still fun.

Before our flight boarded, Tabitha and I went to talk to the attendants to make sure our luggage was loaded onto the plane. It wasn't. They said we'd probably have to talk to the BA representatives at the airport in Rome. Fantastic, right?

Well, I've got to go now, since the computer lab is closing. Parte due shall come tomorrow (hopefully)!

Love to all!
Alright, so I still can't figure out how to just put a picture in the background of the layout, but it's just as well, because I don't have any pictures yet that I'd want to put there. At least I don't have an inaccurate Seattle skyline there anymore.
Current Mood:

bouncy